Pertti Aimonen is a farmer's son who grew up around equipment and machinery. He and a couple of friends established OptoFidelity in Tampere, Finland, and started designing test robots for global markets.
OptoFidelity's business is at the test core of Industry 4.0: the company designs test systems – from product development to production – for companies that design and manufacture smart devices.
"We want to help our customers make the best smart devices in the market. With our help, they can detect quality flaws throughout the product lifecycle – from R&D to production," says CEO Pertti Aimonen.
A tour at OptoFidelity's Head Office in Tampere gives insight to the spectrum of the company's work. It looks like a Gyro Gearloose dream scenario. The different floors have fascinating-looking robots with a range of intriguing functionalities ready to be shipped to the car industry, smart phone factories and the pharmaceutical industry, to name a few. One room has robots specialised in optical measuring.
Pertti Aimonen, Tapio Koskinen and Kimmo Jokinen established OptoFidelity Ltd back in 2005.
"We dared to venture into entrepreneurialism based on our own expertise and backed by Tekes funding for startup companies. (Tekes is the Finnish Funding Agency for Innovation.) I'm happy with how we have grown – not too fast, giving the company time to evolve."
"In 2014 the time was right for scalable growth, and we started looking at our options in terms of growth partners. That's when Finnish Industry Investment came into the picture," says CEO Aimonen.
The company is headquartered in Tampere, but it also has operations in Oulu, Shenzhen, Chengdu, Silicon Valley and Seattle. Its network of partners also extends to other regions in Asia, like Taiwan and South Korea. In 2015, the company hired over 30 new employees and its turnover nearly quadrupled.
Few competitors in Asia
OptoFidelity is the global market leader in its sector.
"Some call us a monopoly, because we have no competitors in Europe, for example. There are a few competitors in Japan and South Korea, but their product offering isn't as comprehensive."
"When OptoFidelity launched eleven years ago, we lived in a different world with a different generation of devices. Our first projects were quality testing systems to test video quality and performance, which we did for Nokia, for instance. The year 2008 was significant for the entire sector when touchscreens made a broader entry into the market. We helped in the market launch of the first-generation resistive devices and capacitive touchscreen testing and validation system."
Resistive and capacitive are two touchscreen technologies. Capacitive technology is usually used in today's smart phones and other consumer products.
"In 2012 the second generation emerged, and we introduced equipment-level performance measuring to the business. The last two years have brought a lot of innovativeness also to test robotics with the emergence of new user interaction methods for smart devices: styluses, force sensing, and gesture and voice control. The test validation for these methods is challenging."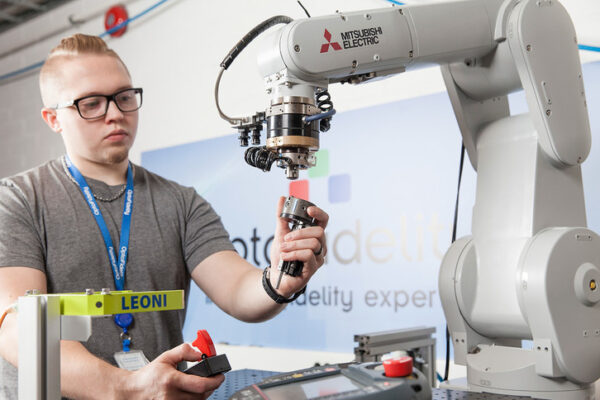 Passion and flexibility
OptoFidelity's founders came from different sectors. Pertti Aimonen used to work at Metso Automation and then at a software design company, where he met Kimmo Jokinen. Tapio Koskinen, in turn, was a consumer electronics guru. They were united by the desire to go global and conduct business in test and measurement systems.
The same cross-sector approach can be seen in today's recruiting. Aimonen believes that innovations are created in the interfaces where different competence backgrounds and people converge.
But there is one thing every employee must bring: a passion for work and technology! OptoFidelity has continuously recruited 'MacGyver-types' – people who love technology and share a passion for creatively solving customer problems.
"Every month we give employees MacGyver awards that are related to our values. Today three employees who innovatively solved problems in the customer interface received the award."
High energy and a spontaneous culture are part of the MacGyver spirit.
"As we grow, we are consciously holding on to the good aspects of a small company. We have a flat organisation and we want to be flexible and customer-driven so that we don't become bureaucratic."
Aimonen says it's important that the OptoFidelity culture and values extend to all company sites and employees.
"There are cultural differences between countries. In China, for instance, the independent MacGyver-style of innovating is not a given; in the US, if the boss tells you to jump, you jump. Here in Finland, we believe in questioning the jump. During the recruiting phase, we emphasise that each employee internalises the OptoFidelity culture and values of going global, being flexible, and having a passion for solving customer problems."
No foot dragging
Our current culture, values and incentives took shape through a two-and-a-half-year-long Leader project that ended last spring and was funded by Tekes.
"It was centred around us benchmarking the practices of the most flexible 'great place to work' companies from around the world and picking the practices that we could adapt to our culture. After all, it doesn't make sense to re-invent the wheel for everything. We launched the values during the Summer Days event and in the workshops that followed, where also all our Chinese employees were present."
But it isn't enough that every employee internalises the values and culture.
"The Board members also have to endorse the values. Everyone has to have an interest in this sector and in going global, and we don't want any bureaucratic foot dragging on our team. After all, you could bring everything to a standstill if you seek out every risk. If you tend to go for the Finnish national style of pessimism, you'll be spinning your wheels. We go boldly towards mission impossible projects."
---
Smart devices keep getting smarter
Pertti Aimonen has a front-row seat to technology advancements and is quick with examples of future devices:
"Artificial intelligence will be used increasingly in health services. It is helping oncologists choose the right cancer treatment. The next generation of various virtual reality glasses is already on the market, and they'll be a big hit on the Christmas market within a couple of years when the third-generation and their applications are introduced. The consumer experiences that VR glasses and their 360-degree cameras will bring to gaming, marketing, or, even meeting arrangements with people from across the world are still an unknown."
"Soon there will be no distinction between reality and virtual reality. Wearing VR glasses, you can really repair problems, such as find out which of the paper mill's many sensors is defective. Wearing a wristwatch with new sensors that measure health data, elderly people won't have to go to the healthcare centre so frequently."
"Purchases and medications can be flown by drone to your front door, where a care robot will pick them up, helping me to live at home as long as possible when I get old. I'll be able to safely drive a car even when I'm old because it will be partially self-driving."
---
Example of OptoFidelity's test systems (Apple iPad Pro vs. Microsoft Surface Pro 4):

More information about OptoFidelity's culture and teamwork:
---
OptoFidelity
Designs test robots and systems for smart devices.
Established in 2005.
Employees: 93.
Biggest owners: Founding partners Pertti Aimonen, Tapio Koskinen and Kimmo Jokinen, and investors FII and Visionplus.
Head Office in Tampere, operations also in Oulu.
Subsidiaries in China and the USA; sales partners in Asia.
Turnover EUR 19.5 million (2015).
---
The article was first published in Growth 2/2016.