Each year six university students are selected for Tesi's Trainee Programme. The trainees become acquainted with the tasks of an investment analyst over a six-month period. Participants Julia Jutila and Juhana Peltomaa share their views about the programme and their future plans.
The summer trainees come from the Aalto Fellows Program, a part of the English-language Aalto Ventures Program that prepares students for high-growth entrepreneurship through top-level education and curricular activities. Applications for other intern positions are open to all, so trainees are working at Tesi all the time.
"Our Trainee Programme has proved its worth in helping to develop our own work community as well the investment industry at large. Young students can display their skills in the broad sweep of private enterprise and financing that we cover. They also liven up our community and test our values – for instance, regarding responsibility in the screening phase," says Director Anna Kilpi.
She says the objective is to combine even more diversified expertise and perspectives with respect to age, gender, nationality and cultural background. "Diversity has been proven to be profitable for a company – and rewarding for individuals."
We wanted to hear how programme participants Juhana and Julia got on.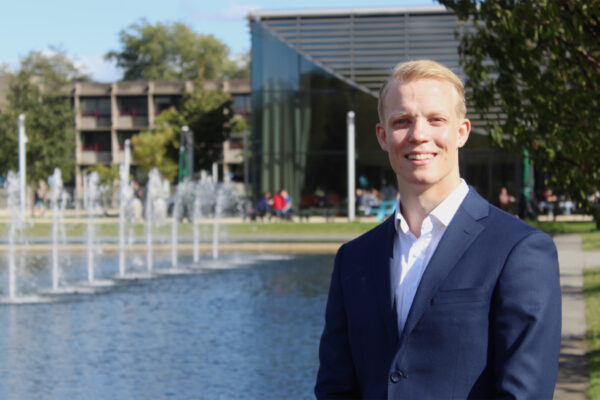 An inquisitive mind crosses faculty boundaries
Juhana answers the phone in Rotterdam where he went on a student exchange from Aalto University's CEMS course last summer immediately after his Tesi internship. In addition to international master's courses in management, Juhana is studying economics for five years and is in his first year of a computer and data science course. He puts this breath-taking combination down to his curiosity, and sees venture capital and private equity investment also as one more component for building something of greater social importance.
"Alongside guiding money flows, I believe combining expertise, capabilities and attitudes with companies' decision-making and operations is an important aspect of investing. The social benefits will make the sector more important," says Juhana. He believes that investments channelled into, for instance, health technology, food production and the circular economy are vital because they have such far-reaching and decisive benefits.
Juhana's strongest memories of events this year are his internship in Tesi, followed by publication of the Aalto Fellows group's impact investing report and the group's study trip to Israel. Students were exposed to a unique and effective environment in which startups, universities and venture capital investors collaborate closely and fruitfully.
"Despite the contrasts, Israel made a lasting impression," sums up Juhana.
His internship in Tesi also changed his expectations. "State-ownership could be confused with bureaucracy. That's why the passion that Tesi employees put into their work was so striking. A huge amount of work, people and time is needed when the goal is not only astute investment but also a better investment ecosystem."
Juhana will return to Finland at the start of 2020. More difficult to predict, though, is where he will be in five years' time.
"I'm keenly interested in VC/PE investment and analytics. Linking my own work to impact investing, and combining that with an understanding of technology, will hopefully be a part of the equation in future."
The investment industry opens doors to real life in many companies
Julia, who is on a five-year production economics course at Aalto University, was a trainee at Tesi in summer 2018. In the upper level of comprehensive school she was interested in physics, mathematics, social affairs and business. In her university studies, Julia has found the student community as well as projects conducted for companies highly interesting because they add depth to the studies and produce practical solutions.
"In the investment industry I can take part in the operations of many companies, and not be tied to just one. Accelerating companies' growth, different people, ideas and the future – these are all interesting," explains Julia. She sees venture capital investments, as well as enhancing the expertise and skilled ownership these involve, as a way to support growth.
"Venture capital and private equity investment is an important channel for humankind to solve critical problems. Nevertheless, the business perspective is integral to impact investing – it's not a question of charity. I believe that profitable business and genuinely impactful venture investment will converge even more in future.
An internship at Tesi has strengthened Julia's interest in the sector. "I'm impressed by how fine the companies are that we have in Finland. The research-based companies were particularly impressive, and I had interesting discussions with the entrepreneurs running them."
Global student-led VC community becomes a reality
Alongside her studies, Julia works at Wave Ventures, which is the Nordic countries' first and Europe's largest student-led venture capital fund. In November, Julia and Pauliina Meskanen arranged an international student-led venture capital investor program in Helsinki before jointly participating in Slush, Europe's largest startup event. Around thirty young people, some from as far afield as the USA and Asia, met some of Finland's venture capital players and startups. Such an event has never been arranged before, so the number and diversity of participants were a pleasant surprise.
"The idea is to create a global network of student-led VC investment companies, where the experiences of people from differing backgrounds and diversified operating environments are shared in a way that benefits everyone. Our first meeting was hugely successful and a similar event is planned for next year, either in Finland or elsewhere. Our international team now has a Facebook group, in which questions and comments fly back and forth," says Julia.
In five years' time she wants to be working in an inspiring and energetic environment where thinking people do meaningful things. Julia does not have a particular sector or company in mind, but she wants to be able to develop herself as well as the world around her.