BMH Technology has delivered six process plants to China that convert waste into high-quality Solid Recovered Fuel (SRF). That is just the beginning, though. With broadened ownership, the company is aiming for full-speed growth with wider horizons.
BMH Technology Ltd's core expertise lies in waste refining solutions to meet the needs of waste management, energy production and process industries, and also in biomass fuel handling systems for power plants. In the company's Tyrannosaurus® process, mixed waste is converted into high-quality Solid Recovered Fuel (SRF), which can be used to replace fossil fuels such as coal.
BMH Technology's largest owner is the Hollming conglomerate, which has business groups in the marine cluster, energy sector and process industries.
"I represent the fourth generation in our family-owned company. My grandfather founded the company in 1945 to build schooners for war reparations, and it has steadily grown into a multibusiness conglomerate that owns and develops companies," relates Hollming Ltd's CEO Jouko Salo.
Hollming acquired BMH Technology in 2007, when it realised the company's waste refining solutions had good prospects for success also on a global scale.
"When the Chinese market opened up for us a couple of years ago, we understood that we needed broader shoulders. The resources of a small, family-owned business were not sufficient to reap the full benefit of the new opportunities," says Salo.
So BMH Technology broadened its ownership once again. Tesi and Etera Mutual Pension Insurance Company (now Ilmarinen) became new minority shareholders through a private offering.
"This gave us more credibility and widened our operating scope. We share a common vision with Tesi: exporting green Finnish recycling technology to China. We've become emboldened, too, to plan for more ambitious growth. We've generated revenue of about € 50 million, but we have strong expectations for 2018," says Salo.
Award from China cement association
BMH has already delivered the first six waste refining solutions to China. One noteworthy reference the company won was the plant delivered in 2016 to the Beijing Building Material Group. BBMG is the biggest cement producer in northern China, and the plant converts municipal waste into fuel for the cement kilns.
"We won a technology award from the China Cement Association in December 2017 for this delivery. Recognition from such a prestigious organisation opened a gateway for us to enter China's demanding cement market," reports Salo.
BMH is strongest in large-scale industrial systems, so the markets are in large cities. Waste management in China's large cities is embryonic, and waste often ends up in landfill sites. China, meanwhile, is the world's largest producer of cement, boasting over 1,200 cement factories.
Development of waste handling is a declared strategic objective in the Chinese government's five-year plan. That means there is a real need for systems that can produce fuel from waste.
"So, if this business is worth doing anywhere in the world, it's worth doing there," says Salo.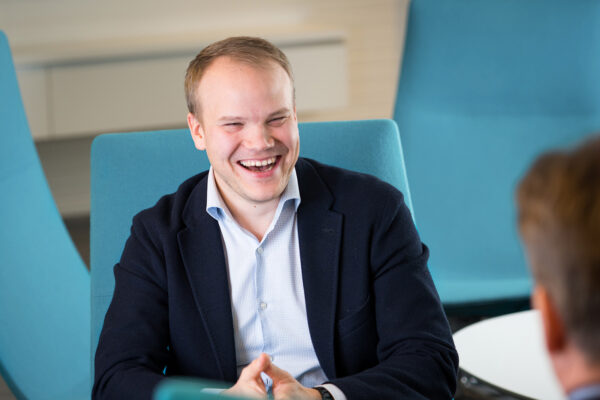 A challenging and interesting market
BMH has not set out to conquer the Chinese market from a cold start because Auramarine, a Hollming subsidiary, has had a manufacturing plant in China for 15 years already. Salo points out that although there are many cultural differences, they can be overcome if there is a willingness to understand and adapt to them.
"The ways of negotiating and project management, for instance, are quite different. Many problems are solved by communicating, though," he says.
The involvement of a state-owned player is highly important in Asian trade and commerce, and Tesi's backing strengthens BMH's credibility. New capital will also enable the company to respond more quickly to growth in demand.
In Salo's opinion, China is a challenging market because its economy is developing so fast and decisions are made so abruptly. On the other hand, it is a very interesting market to follow.
Responsibility is an important value
Salo feels it is inspiring to contribute to solving the world's problems. He believes that by 2050 all profitable business operations will have to take into account sustainable development and external impacts of business. For a family-owned company, responsibility is an important value.
"We put personnel wellbeing and work safety in first place because the company is the people who work in it, and in our work community we prioritize the team first. Next, of course, come environmental aspects."
"The use of biofuels and the making of biofuel from waste will slow down global warming and reduce carbon dioxide emissions. Both are strongly linked with the revolution now taking place in the energy market, and with emission-free and low-emission energy production. These are matters close to our heart."
Salo believes that responsibility in business creates a competitive advantage above all through continuity.
"The world's regulatory environment is becoming more stringent all the time, and our business activities help customers meet the stricter environmental requirements."
BMH Technology Ltd has so far delivered over 70 Tyrannosaurus systems and over 150 biomass fuel handling systems to different corners of the world. The company's operations in the environmental and energy sector are based on in-house technology, project management and expertise in manufacturing and installation. Based in Rauma, Finland, the company's head office is supported by sales offices in China, Sweden and Poland.
"It's rewarding to collaborate with Tesi. They have experience in the importance of long-term development, and the time-span for implementation is similar to that in a family-owned company," says Salo.
---
BMH Technology Ltd  
What it makes: demanding waste refining solutions to meet the needs of waste management, energy production and process industries, and also biomass fuel handling systems for power plants.
Domicile: Rauma, Finland.
Net sales (2017, estimated): € 42 million.
Size of market sector: € 25 billion.
Principal owners: Hollming Ltd, Tesi, Ilmarinen Mutual Pension Insurance Company.
---
The article was first published in Tesi's Annual Review 2017.