Wanting to make the world a better place, Sami Marttinen decided to start Swappie. Last spring the company raised EUR 5 million for financing its growth. Marttinen and Investment Manager Lauri Kokkila from venture capital company Inventure explain how this was done.
Sami Marttinen, you and Jiri Heinonen had other business ideas also. Why did you settle on used phones?
"The idea for Swappie came from my own experience: I tried to buy a used phone from friend of a friend on the Tori.fi platform, and I was ripped off. I sent the money but never received the handset. When I reported it at Pasila police station, I was told it's a common occurrence. The used phone market was unregulated and there was a high risk of being cheated.
I did some research with Jiri, and we noticed that there was a hidden opportunity for doing good business in refurbishing and selling used phones. Reliable and responsible players were few and far between. We also discovered what a huge problem electronic waste was for the environment."
What attracted you to entrepreneurship?
"I started as an entrepreneur at 15 years old, when I co-founded a construction company with my father. We developed a number of small innovations that allowed us to work faster and more smartly. It made me feel good to have satisfied customers, to create added value in the market, and to see the company grow.
I looked at society through new eyes. I thought about what things needed changing and what I should do about it. I noticed how important the meaning of work was to me. What I liked most was doing something that produced an improvement in society or the environment.
When, through friends at Aalto University, I bumped into Jiri, who has the same passion and drive for solving social problems, it was immediately obvious that we'd set up a company together. We didn't wonder whether we'd get a salary from it, we just did it to see if it worked. I haven't regretted a single day."
What was the most challenging aspect of founding Swappie?
"The founder of a growth company has to build everything from scratch. When nothing's ready, the biggest challenge is prioritising: what should be done first and what can be left for later. Also, spheres of responsibility give pause for thought. Jiri had built mobile applications and suchlike before, and done small start-up projects on a fast-track schedule, so I've also learned a lot from him.
What has positively surprised you?
"So much, and all the time. But I'll pick out a few things, mainly from the early days of the company. I've heard that problems often arise between the founders of a company, but the cooperation between Jiri and I has worked extremely well for four years now. I trust him absolutely.
What also surprises me is how talented the people who joined us are. When people continue to grow while they're with us, they continue to surprise. There are plenty of examples of this, such as rapid advances in refurbishing technology and other techniques.
A third positive surprise was finding our current board chairman, Ville Vesterinen. During our first summer, almost by chance we attended an event recommended to us at which Ville was speaking. We'd never even thought of looking for financing before we met him. He helped us start finding investors."
What is your mission with Swappie?
"We believe that refurbishing and selling used phones is a particularly important activity because we make a positive environmental impact with every phone we sell. We want to bring about a shift away from buying new electronics towards buying used devices or refurbished as-new devices.
The lifetime of a new phone is currently one-and-a-half to two years. If we lengthen the lifetime of a device to three or three-and-a-half years by refurbishing it, its carbon footprint is halved. That's a big step forward in terms of responsibility and the environment."
What does Swappie do to phones?
"Besides refurbishing and repairing phones, we also enhance them so that in many cases they are functionally better than they were when new.
For instance, if the soldering on the phone's motherboard was poorly executed, it easily becomes broken. The camera may stop working or the screen will fail to respond properly to touch. In that case, replacing the camera or the screen is not enough. We repair the motherboard by strengthening its soldered joints and by making the joints more flexible. The phone then better withstands being dropped, for example, and the type defect in those cases doesn't then re-occur."
In what ways do you promote responsibility and positive social impact?
"Ecofriendliness is an important value in all our activities. We try to re-use components whenever possible, and everything we can't utilise we recycle in the nearest possible location.
We employ 70 people already. Most important for us is that we've assembled an awesome team that also makes a positive social impact."
You are also internationalising. What can you tell us about that?
"In mid-2018 we were still operating only in Finland, but after receiving financing from Inventure, Lifeline Ventures, Reaktor Ventures and Business Finland we gained a foothold also in Sweden and Italy. Both markets are growing strongly.
At the start we wanted to choose different types of markets in order to identify the correct internationalisation models for different environments. Purchasing behaviour differs very much indeed between the Nordic countries and, for instance, Italy. Ecofriendliness and responsibility are more pronounced in the Nordic countries, so we can build on those aspects here more firmly than in southern Europe.
We have a rock-solid team, both in the company and on the board of directors. It would be difficult to find a more experienced support network in terms of internationalisation."
What will Swappie focus on next?
"The funding will enable us to boost everything we do to the next level. We'll further develop our servicing technology and continue our growth trajectory. We plan to further strengthen our team and to craft internal processes to match the company's increasing size."
---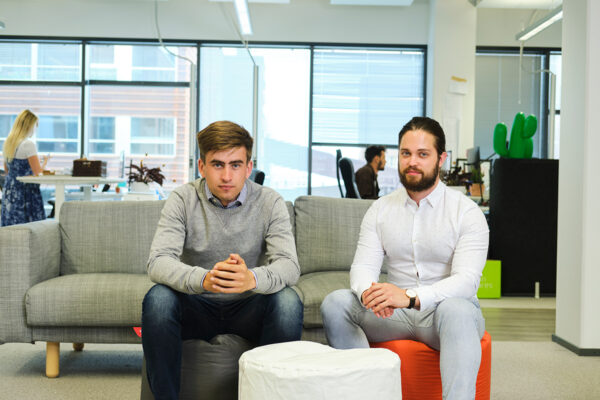 Lauri Kokkila, why did Inventure select Swappie to invest in?
"Swappie has got a lot of things right. The team is decisive and bases its operations on hard data. The company's operating model has proven to be effective, and the figures show the potential for an international success story. Also, the timing is right for Swappie because the market is at an early stage and not too fragmented compared to, say, the used car trade.
We address responsibility and try to make a positive impact in all our investments because we believe we make better choices that way. Corporate responsibility and impact will grow in importance in the future as the values cherished by millennials become mainstream. Millennials already represent 35% of the global workforce, and they place far more importance on corporate impact than older generations.
One driver of growth in the future will be how companies try to empower consumers to make more sustainable choices. Swappie uses materials effectively and recycles them, on top of which it extends the useful lifetime of phones by refurbishing them. We believe these arguments speak for the company and will accelerate its success.
Social impact perspectives have been a priority for venture capital investors for some time now. We want to support start-ups and growth entrepreneurs in improving society and solving the world's problems. I'm convinced that in future we'll be aiming to make a beneficial impact in all our investment activities."
Photos: Junnu Lusa
---
Sami's three tips for buying a phone
When buying a new phone, compare prices, guarantees and the right to return it.
When selecting a used phone, ask whether the battery has been replaced and the phone serviced.
Buy a phone from a reliable supplier. If buying a phone directly from the previous owner, it is difficult to know whether it has been damaged – for instance, by water – or stolen.
---
Swappie
What it is: A growth company established in 2016 that uses an online platform to refurbish and sell used phones. At present, this means in practice iPhones. Founders Sami Marttinen and Jiri Heinonen.
Who and where: Located in the Ruoholahti district of Helsinki, and also in Sweden and Italy. Team of some 70 people.
Growth rate: From zero net sales to EUR 8 million in two years.
Financing: Raised EUR 5 million for financing growth and internationalisation in a second funding round completed in May. Investors include Finnish venture capital and private equity funds Inventure, Lifeline Ventures and Reaktor Ventures, as well as Business Finland. Tesi has invested in Inventure's and Lifeline's funds.
Website: www.swappie.com/en
---
Sami Marttinen
Who he is: Founder and CEO of growth company Swappie.
Education: Aalto University School of Business, marketing.
Earlier work experience: Founder of Viking Shave Club 2016 and Purtava 2014. Worked during his student years in Rakennusapu Marttinen, co-founded in 2006 with his father. Has also worked in a bank and in factories as well as distributing advertisements and picking strawberries.
Special: Started a sports society in Aalto University, actively involved in voluntary work.
---
Lauri Kokkila
Who he is: Investment Manager at Inventure, where he has worked since 2015. Specialised in AI, machine learning and 3D technologies.
Education: MSc (Technology), Aalto University's Information Networks Master's Programme.
Earlier work experience: Project manager, at SRV, a large construction group, where he developed the company's digital services.
---
Inventure
Established: 2005.
Business concept: To invest in innovative and rapidly-growing hi-tech start-ups in the Nordic and Baltic countries, and turn them into global success stories.
Portfolio: 38 companies.
As an investor in funds: In addition to Tesi: Elo Mutual Pension Insurance Company, European Investment Fund EIF, FoF Growth fund, Ilmarinen Mutual Pension Insurance Company, Nordea Life Assurance, Sandvik Eläkesäätiö, and The Finnish Innovation Fund Sitra.
Team: Sami Lampinen, Managing Partner; Timo Tirkkonen, partner; and Tuomas Kosonen, partner. 10 people, plus three more being recruited.
Website: inventure.vc