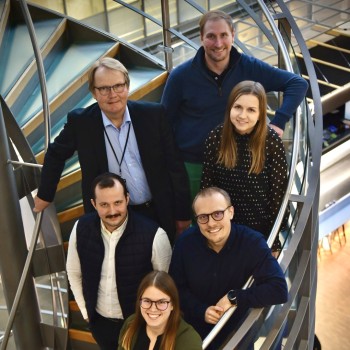 Do you have the motivation to work with data and the ability to turn data analysis into meaningful outcomes for the target audience? If yes, this could be your chance!
We are now looking for an analytical analyst trainee to join our development team. As a trainee, you will be supporting the development team in strategic planning, executing Tesi's SME market survey, and designing and conducting PE/VC advanced analytics for the needs of investment teams.
The traineeship will start in August 2023 or latest in the beginning of September depending on your situation and it is a full-time, fixed term position (4-5 months).
Join us for our breakfast event at Lapland Hotels Boulevard on January 27th to hear more!
The strategy and development team of seven works on our company strategy, key development projects, internal and external market analysis as well as data and analytics for the purpose of decision-making. As a trainee, you will be supporting the development team in conducting market analysis, creating presentations to be published based on the analysis, and preparing material and analysis for a strategy process. One of your responsibilities will be the execution of Tesi's Growth Company Pulse Survey. You will get to plan the questionnaire, analyze and visualize data and gather all the findings, draw conclusions and create an appealing presentation to be published. You can read more about the previous survey here. In this role, you will be closely collaborating with colleagues from other teams as well as with external stakeholders. You can also participate in the sector-specific private equity and venture capital analysis by using excel and BI tools as well as prepare different kinds of workshop materials.
Values
At Tesi, we help Finnish growth companies to succeed. In addition, we develop and serve the entire Finnish venture capital and private equity market. With us, you will operate responsibly while aiming for a positive social impact, profitable investments, and the success of our portfolio companies and funds. We believe in equal opportunity and that diversity empowers our people and our business. We encourage applicants from all backgrounds and experiences to apply, and we are particularly interested in hearing from candidates who can bring diverse perspectives and experiences to our team.
You have
Relevant university degree or you are finalizing your studies for example in (but not limited to) business, finance, accounting, analytics, technology, or similar fields
Some relevant work experience (e.g. from a summer job) that has included analytics
Motivation to work with data and ability to turn data analysis into meaningful outcomes for the target audience
Independent and accurate working style
Strong skills in Excel and PowerPoint, knowledge on BI tools are seen as an advantage
Fluent written and spoken communication skills in Finnish and English
We offer you
Possibility to work across the organization with different investment teams and an excellent opportunity to understand private equity market dynamics firsthand
Challenging and versatile projects from day one – You get to work with proprietary data that contains unique information about Finnish companies and analyze the development
Opportunity to deepen your analysis skills and work with large data sets. You get to do modern analysis and visualizations with Tableau
Chance to gain relevant work experience and useful contacts for your future career. Our trainee alumni have gone to build ambitious careers in a diverse set of positions including start-ups, private equity funds, and management consulting companies, or continued their careers at Tesi
Supportive and professional colleagues who boost your development and who are curious to hear your ideas. The atmosphere is truly low hierarchical and the culture is very open and talkative
Monthly salary of €2950 with comprehensive occupational health services as well as sports, culture, and lunch benefits.
We support our employees' well-being and cherish a good work-life balance
Got excited? Please submit your CV, application letter, and latest transcript of records at the latest January 31st through aTalent's website. In this position, you will be directly employed by Tesi.
Join us for breakfast on January 27th at 9:00 am at Lapland Hotels Boulevard and hear more about us and our trainee programme. Apply for the event here.
For more information about the Trainee position, please contact Tesi's Strategy and Development Manager Sanni Virtanen (+358 50 553 1312) on  Friday 20.1. at 9-10 or Wednesday 25.1. at 15-16.
For more information about the recruitment process, please contact aTalent's Recruitment Manager Tuomas Pihnala (+358 40 7663938, tuomas.pihnala(at)atalent.fi) at the following times: Friday 20.1. at 12-13 or Tuesday 24.1. at 10:00-11:00.
Tesi wants to raise Finland to the forefront of transformative economic growth. We develop the market, and work for the success of Finnish growth companies. We invest in private equity and venture capital funds and directly in growth companies. We provide long-running support, reasoned insights, patient capital, and skilled ownership. tesi.fi | Twitter | LinkedIn | Newsletter